Bridges of Love / The nights of the Bridges of Love were held in order to strengthen the Turkish-Greek friendship and its purpose of building a rehabilitation centre for physically and mentally handicapped children.


In addition, the project is also supported by Keçiören Municipality and Ankara Chamber of Commerce. Well-known fashion designers from Turkey and Greece held a fashion show to raise funds. A part of the donations were allocated to the Handicapped Rehabilitation Centre in Zonguldak.
The Project for Contribution to the National Education / "The Project for Contribution to the National Education" was organised in 2004. Educational and employment efforts were made for the benefit of disadvantaged women and youth with the support of the Governor's Office of Ankara.
Within the scope of this project it was intended to provide training to women and youth who have immigrated from rural areas and to make them economically self-sufficient. The Keçiören district was chosen as a pilot region. To realise our aims we cooperated with the Keçiören Municipality, Subgovernorate of Keçiören and the Public Education Centre.
Provision of Computer Literacy Training / It is vital for the country and for the youth to gain access to computers and gain computer literacy. But there is a wide segment of society which does not have access to computers and the internet. We believe that encouraging the youth to gain access to the knowledge society will be a valuable contribution on our association's part.
In 2004, the Project for Provision of Computer Literacy Training was held at Keçiören Yunus Emre Cultural and Trade Centre. This project was managed by our association and academicians provided technical support.p>
Thus, it was made easier for the unemployed women and youths having computer literacy to find employment and studies were made to help them find jobs.
Library Service / Libraries are the most important depository of a country's educational activities and source of knowledge. They act as a bridge to transmit scientific and cultural works for future generations.
Our association started a campaign to collect books from our members and other volunteers and established a library in our pilot region Keçiören. This will allow more students to gain better access to necessary information.
Second Hand Items/ One of our association's most important activities is to provide second-hand items (clothes, shoes, house appliances, etc) to disadvantaged students and people. These items are collected from our members and other families. With this we aim to encourage donations to improve the difficult conditions of the students and the people in the neighbourhood.
Due to the change of administration at Keçiören municipality, the Yunus Emre Art and Trade Centre, which was allocated by the municipality for the abovementioned activity has been temporarily suspended. We are looking for municipalities that will be willing to cooperate with our association in carrying out this meaningful activity.
Health Conferences for the Women and Youth / The lack of knowledge about health issues is a great problem especially among women coming from rural areas who face many difficulties in adjusting to life in the city, especially for those women who inhabit slum areas. For this reason seminars were periodically held in Güven Hospital on subjects such as menopause, the importance of early diagnosis, varicose veins, breast cancer and hepatitis, etc. These seminars are currently on hold after the passing away of our dear member and head physician of Güven Hospital Dr. Aysun Küçükel. We hope to continue the seminars with the cooperation of other hospitals if needed.
Promotional and Cultural Tours / Women Ambassadors and Ambassadresses and other women diplomats are accepted as honorary members of our association. To promote Turkey to these members we organise tours to introduce our country's historical, cultural and natural attractions. The tours are jointly organised with the Governors, Chief of Police and members of parliament of the provinces and panels, symposia and cultural events are organised during these trips. We also organise tours to other countries, which also include the members of the diplomatic corps.
We have made trips to such locations as Antakya, Kayseri, Sivas, Çorum, Zonguldak, Kırşehir, Bolu, Karaman, İzmir and Denizli. Through the efforts of the Embassies visits to Syria, Malaysia, Egypt, Macedonia, Bosnia-Herzegovina, Yemen, Jordan and South Africa were organised with great success..
International Cuisine Programme / Generally once a month an "International Cuisine Programme" is held in embassy residences of different countries.
In this programme dishes and beverages from different countries are prepared and served by the embassies, which creates a favourable cultural atmosphere.
Jewellery and Ornament Design and Vocational Training Centre Project / Jewellery design though an ancient profession has never lost its importance. This profession has come to this day and age through a master-apprentice relationship. In the last years in our country many vocational and technical schools have started jewellery design programmes. This profession offers many possibilities for those who want to start their own business.
The Jewellery and Ornament Design and Vocational Training Centre Project, which was implemented in Ankara, lasted for one year and where 150 girls and women participated. The course was divided into two terms and lasted for a total of 40 hours. The weekly training programme included 14 hours of jewellery atelier course, 4 hours of design course and 6 hours of business training.
To ensure the continuation of these two projects we are cooperating with the Keçiören Municipality and these projects are continued in two buildings allocated by the Municipality.
18 December 2010 / On 18 December 2010 one of our members Mrs. Zeynep Köksal hosted a New Year Welcome Lunch. A concert by Murat Başaran and Canan was followed by spectacular folk dance acts of the Efe duo of the Ministry of Culture. The funds raised from this charity lunch were donated to the Rett Syndrome Family Solidarity Association.
30 January 2010 / An open air concert was held on 30 January 2011 at Ankara Castle. This event was organised with the support of Ankara Castle Association to promote the venue to the members of the diplomatic corps.
11 March 2010 / A panel on the occasion of International Women's Day was organised at the Sheraton Hotel on 11 March 2010 where successful women in all walks of life such as politics, business, arts, theology were represented.
4 May 2010 / An International Lunch-Buffet was hosted at the residence of the American Ambassadress Mrs. Gudrun Jeffrey on 4 May 2010. Different specialities from several countries were offered and a classical Turkish concert also took place.
27 May 2010 / On 27 May 2010 a panel The stories of successful women's was held at Ankara University 100. Year Hall. The panellists included Gamze Cizreli (Businesswoman), Gül Göktepe (Nuclear Physicist), Gönül Saray Alphan (Politician), and Şefika Kutluer (Flutist). The panel was chaired by Prof. Dr. Emel Doğramacı and received substantial media coverage.

11 June 2010 / The Pet Holding Vice Chairman of the Board Mrs. Pınar Köksal hosted a photography exhibition and tea party on 11 June 2010 at the Pet Holding offices. A Classical Turkish music concert accompanied this occasion and we bid farewell to departing Ambassadors from our country.
2 December 2010 / The ambassadress of India Mrs. Smita Tewari Jassal opened up her residence for the International Kitchen Programme. This event was accompanied by traditional Indian dance.
5 December 2010 / 5 December 2010 was the 76th anniversary when Turkish women were granted the right to elect and to be elected to political office. This important day was commemorated with a panel 'Women in Politics' and was chaired by Prof. Dr. Emel Doğramacı. Women representatives from several political parties joined this panel and spoke about their experiences in the political arena. The panel attracted a lot of media attention and many members from the diplomatic corps including spouses of ambassadors.

24 December 2010 / Our New Year Day lunch was organised on 24 December 2010 at Best Hotel. Our Turkish and foreign members had a good time during the event where folk dances presented by a folklore troupe of the Ministry of Culture also took place.

28 February 2011 / The ambassadress of Azerbaijan Mrs. Lale Bagirova hosted a lunch at her residence on 28 February 2011. Two singers, İpek and Cumhur Böler from the State Opera gave a small concert, which included a repertoire of Azerbaijani songs.
05 March 2011 / On 5 March 2011 International Women's Day was celebrated at Ankara Castle. This event was organised with the Ankara Castle Association. Several speeches noting the importance of the day were given by the presidents of the two associations and the Vice-Governor of Ankara. The audience included members of the Diplomatic corps and local artists.
08 March 2011 / On 8 Mart 2011 a photograph exhibition with the theme Atatürk and Women's was held at the Atatürk Forest. Farm on the occasion of International Women's Day. The 250 photographs exhibited is part of a collection of Hanri Benazus. A fashion show by Hüseyin Küçük took place which included clothes representing the era of the early days of the Republic. Produce of the Atatürk Forest Farm were presented to the guests. Hanri Benazus gave a speech on the importance of the day. The programme concluded by a concert given by Yavuz Yalçınkaya.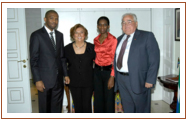 20 April 2011 / The Ambassador of South Africa H.E. Tebogo Seokolo and his wife Ms. Moipone Majoe gave a reception on 20 April 2011 in their residence to our members and the members of Ankara University Association. A presentation about South Africa was given to the members and they were presented informational brochures. It was also a good opportunity for members of the two associations to get to know each other better before the trip to South Africa.

25 April 2011 / On 25 April Nisan 2011 our trip to South Africa started in Cape Town, including Table Mountain, Robben Island, Cape of Good Hope, etc. Afterwards we went to Sun City, Johannesburg, Soweto and Pretoria. Visits to the lion park, safari parks, gold mines also followed. Our visit ended on 3 May and our members went away with many good memories. On our last evening a dinner was given in our honour on behalf of the Premier of the North West Province Hon. Thani Mobise. She was represented by the MEC for Economic Development, Environment and Tourism, Hon. Tebogo Modise and MEC for Finance Hon. Louisa Mabe. Discussions were held between the two ministers and businessmen in our group regarding social, economic, and commercial relationships. A total of 56 participants took part in this trip.

17 May 2011 / On 17 May 2011 a reception was given by the owner of Midas Otel Mr. Mehmet Özlü, who took part in the South Africa trip, in honour of the Ambassador of South Africa H.E. Tebogo Seokolo to thank him on behalf of our group. Our members gave their impressions of the trip through many photographs and audiovisual presentations. The Counsellor of the Embassy of South Africa Ms. Soraya Jacobs also attended.

28 May 2011 / The spouse of the Mayor of Beypazarı Ms. Hamide Özalp, a member who took part in our South Africa trip, invited the whole group of travellers to South Africa to Beypazarı on 28 May 2011. We visited the many historical and cultural sights of Beypazarı, which included lunch and shopping as well.
7 March 2013 / Publicity meeting and final sitting of the EU project about "ADI.RİZ.ELA" was assembled within the scope of International Women's Day the in the Segah Otel on Thursday.
26 March 2013 / "International Cookery Program" was organized by the wife of Egypt ambassador Mrs. Thoraya Elkhadrawy in embassy residence for our association.
7-10 April 2013 / A trip to Azerbaijan was organised.
23 May 2013 / "Welcome to Summer" dinner was organised in Best Apart Otel.
9-13 November 2013 / A trip to Western Thrace including Thessaloniki, Xanthi and Kavala was organised on the anniversary of the 75th year of the death of Atatürk between 9-13 November 2013.
21 January 2014 / "Welcome and Goodbye Party" for the ambassadors' wives was organised in the house of our president Rüveyde Akbay.
11 February 2014 / A musical tea party for St. Valentine's Day was held in Best Apart Otel.
7 March 2014 / A panel about "Family in the Turkish World" was organised by our association, Türkiyem Foundation, Association of Northern Cyprus Turkish Women's Council at the Sheraton Hotel on Friday.
13 May 2015 / A daytrip to Konya was organised.
11 November 2014 / An "International Cookery Program" was held by the Russian Federation's ambassador's wife, Ms. Marina Karlova.
13 December 2014 / The "Models of Fashion" beauty contest and Hafize Ayık fashion show were organized by our association.
22 January 2015 / Panel about "Applications of Stem Cell, Aesthetics and Plastic Surgery for Your Beauty" was organised by our association with the cooperation of Liv Hospital on Thursday.
10 February 2015 / Gathering in Güven Park with the aim of protesting the brutal murder of Özgecan Aslan.
25 March 2015 / A panel titled "Everything About Women" was held at the Sheraton Hotel on International Women's Day.
5 May 2015 / A trip was organised on Tuesday hosted by the Mayor of the Çerkeş district of Çankırı, Mr. Hasan Sopacı and his wife Mrs. Sevgi Sopacı.
4 December 2015 / The clothing needs of 11 children who attend Ahmet Vefik Paşa Primary School and stay at a shelter were met by Mine Aygün and Figen Çarmıklı, members of the Board of Directors.
10 December 2015 / On Thursday, a conference on "Alzheimer's and being a patient relative" was organised in cooperation with Acıbadem Hospital.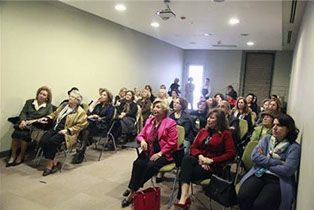 15 December 2015 / The exhibition of the artist Yakup Cem was opened followed by a cocktail.
17 December 2015 / A tea party was held at Meyra Hotel for the benefit of child brides.
In order to contribute to the education and health of young people, our Association has initiated a "Cleanliness and Health Education" campaign and Altındağ Peyamitepe Primary School was chosen as a pilot school, generally attended by children of low-income families.
18 April 2019 / A tea party promoting Azerbaijan was held by the Ambassadress of Azerbaijan Ms. Zümrüt İbrahim.
This meeting, which was very well organised by the Embassy and came to life with Azerbaijani music, was held with the broad participation of our members.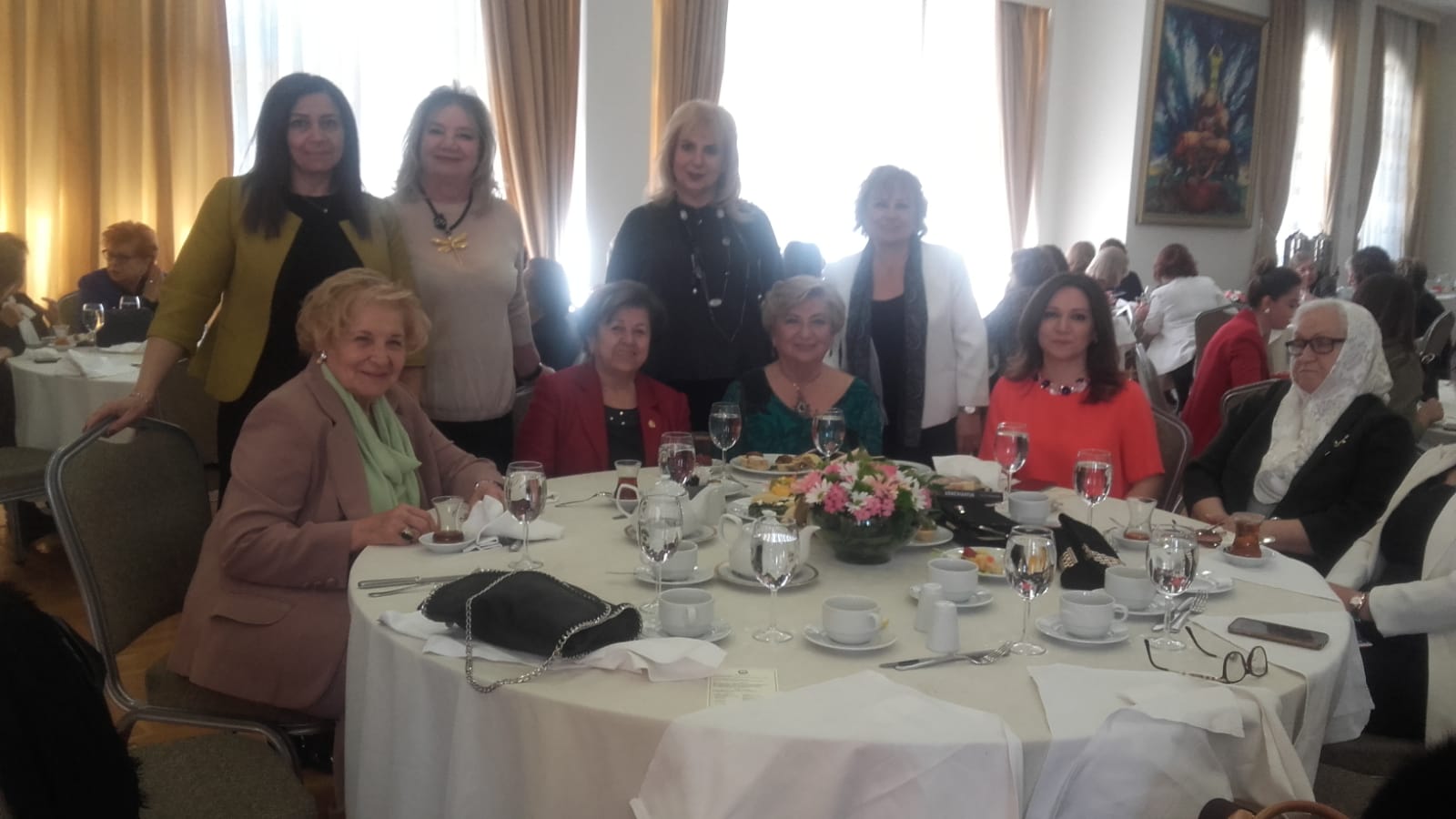 15 February 2019 / Brunch
1 February 2019 / Prof. Dr. Tansu Arasıl gave a presentation on "Aging But Not Getting Old".
18 January 2019 / Prof Dr. Aziz Ekşi gave a presentation "Food Security and Current Concerns".
28 November 2018 / Prof. Dr. İlber Ortaylı gave a presentation on "1918 - 2018 Changing Turkey".
10 November 2018 / Brunch was held at Kırmızı Brasserie at the Antares Mall.
12 December 2018 / New Year's dinner at the Best Hotel.
2 November 2018 / Trip to Kızılcahamam district of Ankara.
4 May 2018 / Trip to Nallıhan district of Ankara.
20 January 2016 / A conference on "All about Waist and Neck Health" was organised in cooperation with Acıbadem Hospital.
Starting date: 1 November 2016
End date: 31 November 2017

The "Employment of Disadvantaged Groups" (Successful Women's Workshop Support to Life) project, in cooperation with the Ministry of Labor and Social Security, Department of EU and Financial Aid.
In this project, we collaborated with Yenimahalle Municipality and Altındağ Municipality and 60 disadvantaged women were trained in jewelery making. Those women who showed an interest in continuing after the end of their education were provided with workshops and material assistance to make an income.
Detaylı bigli için lütfen word
bilgi dosyasını indiriniz